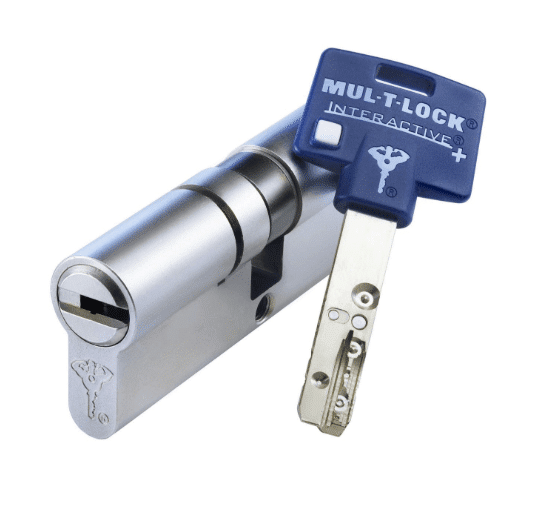 In Dallas, Texas we have a variety of clients who are seeking high-security locks.  To meet that need, we often recommend the Mul-T-Lock Interactive system.  It is one of our most innovative, secure, and useful solutions to date.  Here is a brief look at the benefits of this locking system.
How the Mul-T-Lock High-Security Interactive Lock Works
The beauty of Mul-T-Lock Interactive locks lies in their construction.  They have a mechanism that makes use of a telescopic pin tumbler, which has external and internal pins.  To access this lock, the external and internal pins must be perfectly aligned simultaneously.  This makes the Mul-T-Lock extremely difficult to pick.  Additionally, there are steel inserts that make the lock more resistant to drilling.
Benefits of the Mul-T-Lock Interactive
Traditional locks
You won't lose sleep at night wondering if your lock will be picked or bumped.
Mul-T-Lock cylinders and deadbolts offer the best protection on the market. They are forged with strong materials, including hardened steel, and use patented technology to offer the best resistance to attempts of picking, drilling, and prying. Sleep soundly knowing no one is coming in that door without a key!
Your deadbolt won't be easily defeated.
Traditional locks are easily defeated; some can even be bypassed with just a screwdriver or even a credit card. The Mul-T-Lock Hercular deadbolt is simply the best deadbolt on the market today, having matched or exceeded the toughest industry tests. What makes a Mul-T-Lock deadbolt unique is the two interlocking ball bearings, which increase jimmying resistance. These deadbolts are available in a variety of formats, including single, double, and captive key designs.
You won't have to wonder just how many keys of yours are out there.
With a traditional key, anyone who gets a hold of your key can make a copy of it, no questions asked. Only authorized Mul-T-Lock dealers can create Mul-T-Lock keys, and your key can only be made if you present your official Key Order Card. If someone gets ahold of your key and tries to make a copy without the card, they will be refused.
You won't have to switch all your decorative door hardware.
Want the fashion of your designer door hardware, but the peace of mind of a high-security lock? We've got the solution for you! Mul-T-Lock's high-security cylinders are designed to work with the top manufacturer's locksets, including Schlage, Weiser, Baldwin, Emtek, and many more. "A" Locksmith can just replace your existing traditional cylinder (the round part where the key goes in) with a Mul-T-Lock high-security cylinder giving you the best in both fashion and security!
Someone with a key-copying app won't be able to copy your key from just their smartphone or a photo.
Some unscrupulous companies will make a copy of a traditional key from just a photo. Unlike traditional keys, someone simply taking a photo of your key will not be able to get a copy of that key. Mul-T-Lock keys cannot be made without the Key Order Card and may only be made by authorized Mul-T-Lock dealers.
You won't have to lug a bunch of keys around in your pocket/purse all day.
The options for keying your Mul-T-Lock cylinder system are endless (master keying, keyed differently, or keyed alike), but for the ultimate in simplicity we can key all of your locks (except your car) to open with just one key including doors, cabinets, drawers, vending machines, padlocks, and other security applications.
The Interactive Mul-T-Lock system combines telescopic pin tumbler mechanisms and special features of the normal Classic system with a unique spring-loaded pin inside the cylinder plug creating a 'virtual combination' when the key is placed in the lock. The lock provides increased control options over the key cutting to give you an even stronger level of security. New keys can be cut after a unique Mul-T-Lock key card / customer ID is presented – and all interactive technology can be integrated through the retro-compatible Mul-T-Lock Classic system, allowing for the additional upgrades of existing normal locks.
Special Features of the Mul-T-Lock High Security Interactive Lock:
A special spring-loaded pin inside the cylinder plug, creating a virtual combination when a key with a floating pin is inserted.
A unique telescopic pin tumbler mechanism that utilizes both external and internal pins, and requires simultaneous alignment of both forms of shear lines.
A special plug that creates a 3-dimensional spherical shear line inside the cylinder body.
Patented key blank technology and heightened key limitation security through Mul-T-Lock copying coded cards.
Highly drill resistant steel inserts.
Bumping and pick resistance.
Side and back pins specially made for master key systems.
Full retro compatibility with the Mul-T-Lock Classic lock system.