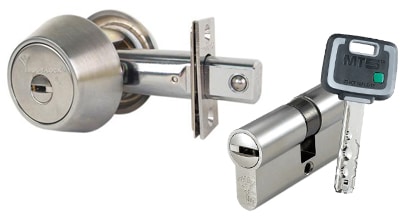 Did you know that more than eighty percent of burglaries are carried out by somebody who is an amateur or who is short on time?
Since most thieves lack the patience and know-how required to break into homes outfitted with proper locks and security devices, you might be surprised to find out how effective it is to take small steps to protect your home from getting robbed.
One of the most effective things you can do is install a deadbolt lock. We've written a guide explaining why doing this is such a good idea. Keep reading to find out more.
1. Benefits of a Deadbolt: Three Types of Locks to Choose From
There are three kinds of deadbolt locks. The most popular kind is known as a single-cylinder deadbolt. This kind of lock has a twist knob on the inside and a key on the outside.
Consider using this type of deadbolt lock if you don't have any windows near the lock. If there are windows nearby, a thief can break the glass to open the lock from the inside of the house.
You can add an extra layer of security by installing a double-cylinder lock on your home. These locks require you to use a key on the inside and the outside of the door.
The most secure deadbolt lock is the keyless cylinder deadbolt. You'll need to enter a password or scan your fingerprint to open a door that's outfitted with this kind of lock.
If you don't know how to get started with installing a deadbolt, it's a good idea to hire a skilled Dallas locksmith to help you.
2. Less Chance of a Break-In
Most burglars break into homes because they have an opportunity to do so. It's not common for burglars to create detailed plans for robbing homes.
They also don't usually have the necessary tools for getting inside homes that are outfitted with the right kinds of security devices.
Deadbolt locks are almost impossible to pick and most thieves won't want to sit in front of your door for an extended period trying to pick a deadbolt lock.
3. Your Insurance Premiums Will Be Lower
Many home insurance companies offer discounts to people who secure their homes with deadbolt locks because these homes are less likely to be broken into.
Your insurance premiums will likely be lower if you choose to install a home security system along with deadbolt locks.
Install a Deadbolt Lock on Your Home Today
You should consider installing a deadbolt lock on your home if you want to decrease the likelihood of getting robbed. Your insurance premiums will be lower, and there are several different types of deadbolt locks to choose from.
Do you need help installing a deadbolt lock on your home? If so, we at Best Locksmith are here to help you. Don't hesitate to contact us today, or feel free to visit one of our four stores in the Dallas area.